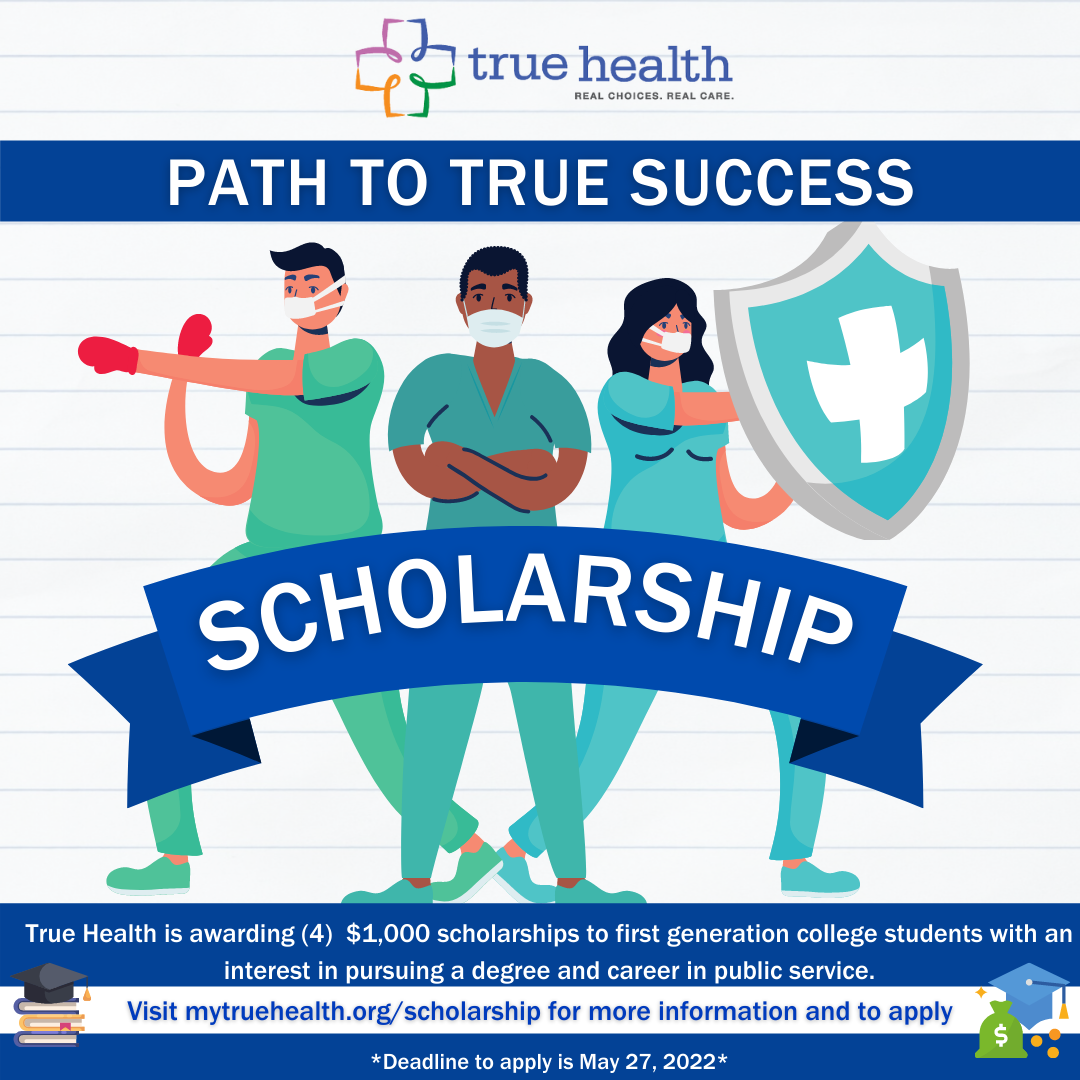 Path to True Success Scholarship Application
As a first-generation student, navigating the college process can be difficult, especially when trying to determine how to pay for one's education. To support students whose future goals are to serve their community, True Health will offer four (4) first-generation college students a one-thousand-dollar ($1,000) scholarship to support their academic goals. The Path to True Success Scholarship is open to all high school seniors and undergraduate students who are planning to pursue or who are currently pursuing a degree and career in the public service field.
While there are many individuals working in public health, True Health's intent is to ensure individuals are aware of the value of Federally Qualified Health Centers and similar safety net resources within communities that face socio-economic barriers. *Additional funding support will be solicited from external donors which may increase the scholarship award amount for each recipient.
Application submission deadline is May 27, 2022
Must be a graduating senior or enrolled in a qualifying undergraduate program.
*Previous recipients are encouraged to reapply for consideration throughout their undergraduate program.

Must be a first-generation college student.

Provide acceptance letter to vocational program*, community college, or 4-year institution.

Must be pursuing an education in healthcare/public service field.

75 hours of community service, 20 hours with True Health is preferred. Employees must complete 75 hours of community service outside of True Health. Service must be completed within two calendar years prior to application date.
Applicants are recognized for their capacity to lead and serve, as well as their commitment to making a significant impact to their communities. Applicants will be evaluated on the following:
A maximum of 1,000-word essay discussing your knowledge of FQHC's and how your career will impact the community.

Two (2) letters of reference from non-family members.
*One letter must be from a counselor or instructor.