*On April 13, 2021, the Centers for Disease Control and Prevention (CDC) and the U.S. Food and Drug Administration (FDA) have suggested pausing on giving any additional Johnson & Johnson COVID-19 vaccine out of an abundance of caution. True Health has paused on administration and is canceling appointments until further information is released.
Please note, True Health is still scheduling appointments for the 2-dose Moderna vaccine.
We are experiencing higher than normal wait times for patients calling in.  We apologize for the delay.  You can self-schedule your COVID-19 vaccine or treatment appointment at https://mytruehealth.org/covid-19-updates/.  Need to schedule an appointment with your regular True Health provider?  Self-scheduling is also offered through your patient portal located HERE.  If you have additional questions, please email us at info@mytruehealth.org
All True Health locations are open and operating under normal business hours.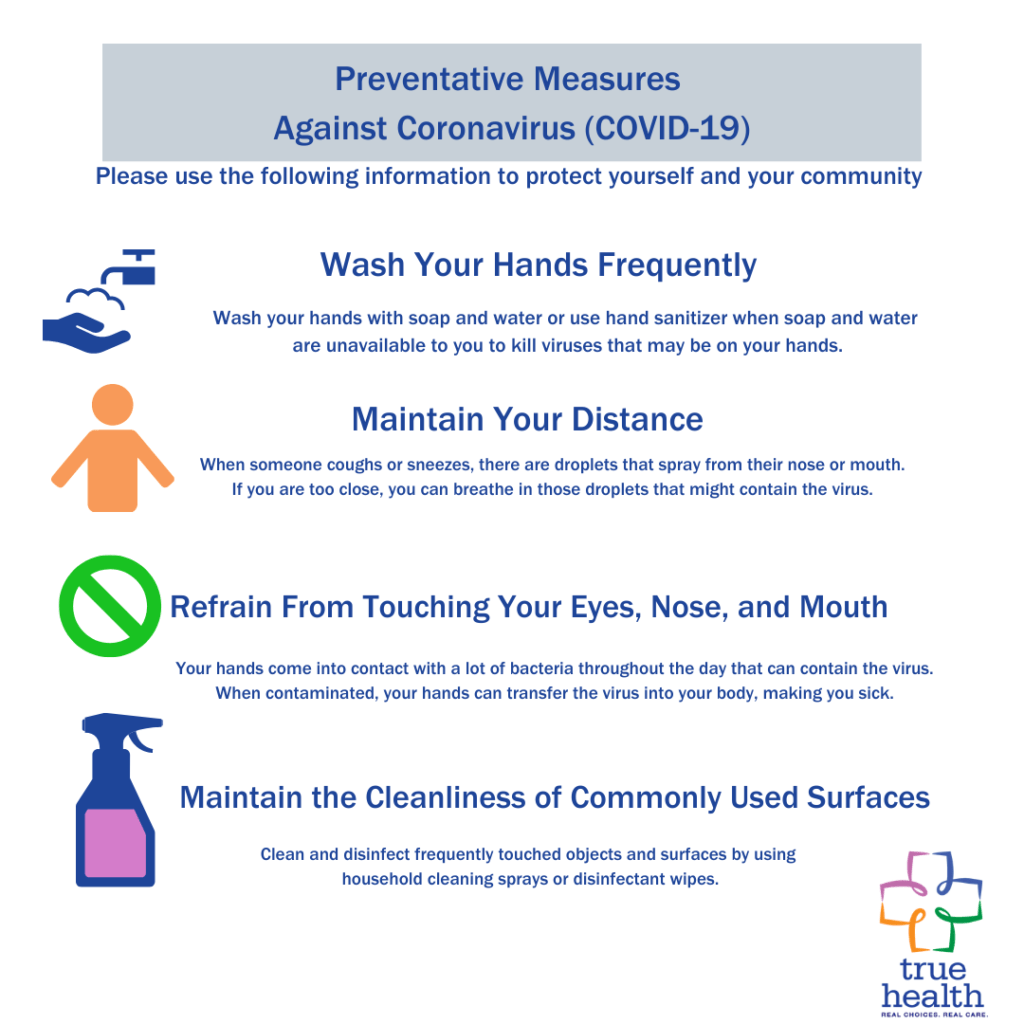 COVID-19 Testing
Due to the high demand for testing, we have limited testing kits available.  At this time, we are no longer scheduling appointments for COVID-19 testing. However, we are accepting walk-ins on a first-come, first-serve basis. Please be advised; it can take up to 14 days to receive test results. Test results can be found in the "Documents" section of your patient portal.
COVID-19 Testing is available on a first-come, first-serve basis at the following sites daily from 8AM-10AM:
Alafaya  ♦  Casselberry  ♦  Hoffner  ♦  Lake Underhill  ♦  Sanford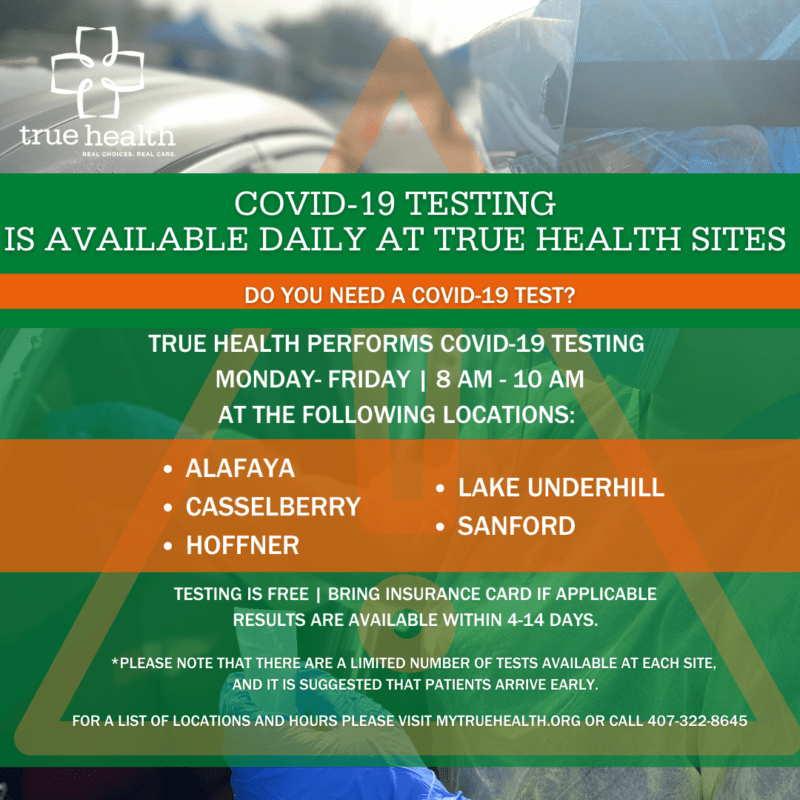 COVID-19 Vaccine
Appointments are now available for the Moderna 2-dose series COVID-19 vaccine at True Health. Please read the instructions below, then click "Vaccine Scheduling" on your left to schedule your appointment.


Click here to learn more about both the Janssen (Johnson & Johnson) single-dose COVID-19 vaccine and the Moderna 2-dose series COVID-19 vaccine from the CDC.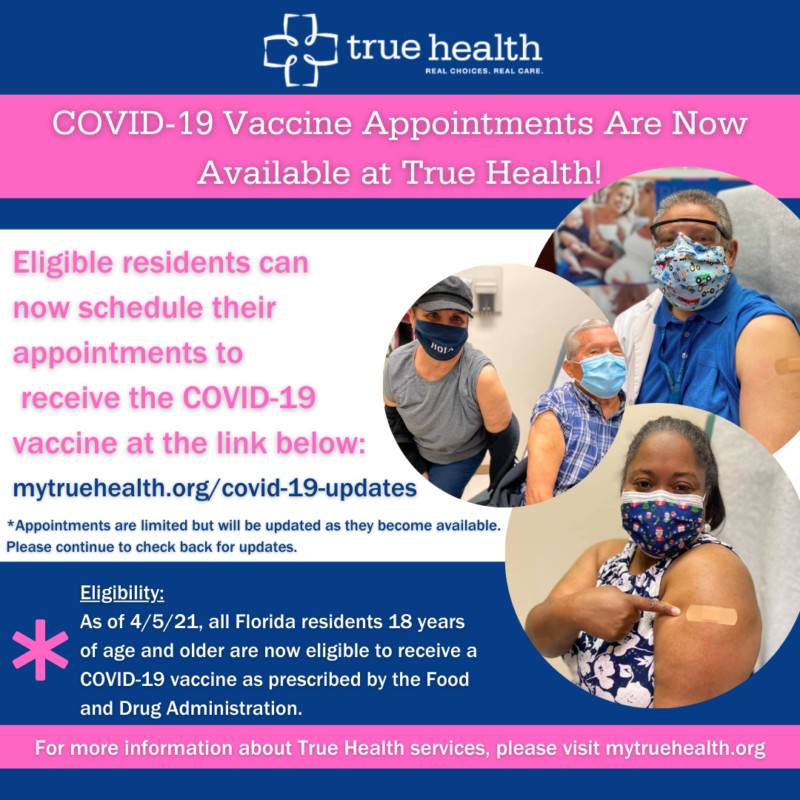 Are you COVID-19 positive?   Were you diagnosed in the Last 10 days?  Are you > 65 or have any underlying medical conditions?
If you answered yes to the three questions above, you might benefit from Monoclonal Antibody infusion.
Monoclonal Antibody infusion is IV medication for patients COVID-19 positive, diagnosed less than 10 days ago, and age 65 or have underlying medical conditions.
It is available to help reduce symptoms and try to prevent patients from being admitted to the hospital.
Interested?
Please see your primary care provider and obtain a referral to the True Health IV infusion Center.   Please schedule an appointment below.
If you do not have a primary care provider, please schedule a Telehealth visit to discuss a referral to the True Health IV infusion Center.
COVID-19 INFUSION CENTER: FACTS AND BENEFITS
COVID-19 is a highly contagious virus, which can affect people of all ages, races and demographics. Symptoms of COVID-19 can be mild to severe. Individuals over the age of 65 and those with co-morbidities are at a higher risk for developing more serious complications leading to hospitalization or even death.
Monoclonal antibody infusion is a new emergency treatment available to those with mild to moderate COVID-19 symptoms who are at higher risk of worsening conditions and are within the first 10 days of diagnosis. There are two medication combinations available for this treatment: Bamlanivimab (BAM)+Etesevimab and Regeneron.
Monoclonal antibodies work the same as the body's natural defense, only faster. Monoclonal antibodies enter the body and begin to fight off the virus immediately.
Patients diagnosed with COVID-19 and who meet at least one of the following criteria may be eligible to receive the monoclonal antibody infusion.
Eligibility Criteria:
65 years of age and older

55 years of age and older and have co-morbidities (Cardiovascular Disease, Hypertension, or COPD, etc

Anyone with BMI over 35, Chronic Kidney Disease, Diabetes, or Immunosuppressive Treatment

Ages 12-17 weighing a minimum of 40 kg and have Sickle Cell Disease, Congenital or Acquired Heart Disease, Neurodevelopmental Disorders (Cerebral Palsy), Asthma or dependent on items like tracheostomy or gastrostomy
Bamlanivimab+Etesevimab or Regereron monoclonal antibody infusion is administered via IV solution through the vein, entering the blood stream.
Benefits:
Treatment with monoclonal antibody IV infusion may help improve COVID-19 symptoms sooner and lessen the risk of patient hospitalizations and decrease the risk of mortality.

Most patients note an improvement of symptoms within 24 hours; reporting feeling less fatigued, a decrease in headaches and body aches, and improvement in shortness of breath.

Treatment is outpatient and complete in approximately 2.5 hours, including 1 hour of monitoring for any potential allergic reactions or side effects.

Patients are sent home after treatment with a pulse oximeter to monitor their own oxygen level and will receive a follow-up call post-infusion to monitor their status.

True Health is the only health center in Seminole County offering this service, working  in collaboration with the Florida Department of Health in Seminole County and Seminole County Emergency Management.